Fountain of Hope Christian School is located on the north-eastern side of Tanzania about 800m above sea level at a strategic location in Moshi town. Right from the school one can see Mt Kilimanjaro, Africa's tallest mountain, with its ice-capped peak rising above the clouds. Visitors from abroad enjoy the absolute beauty of this view and the general atmosphere of chill and tranquillity around the school environment.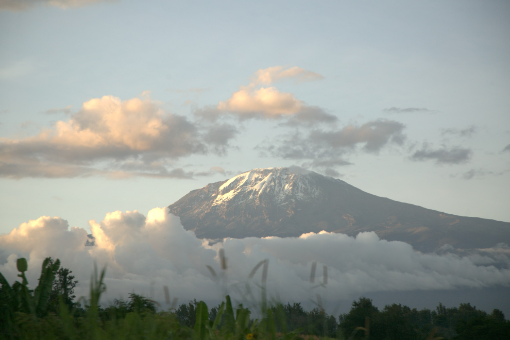 Students at Fountain of Hope Christian School go on a school trip at least a once-a-year to one of the five national parks within a day's drive from the school. In the past, our students have enjoyed hiking Mt Kilimanjaro, safari drives to wildlife parks, and cultural trips to museums and historical sites. These experiences have been priceless to our children as they get to connect with nature and history, whilst refreshing and enjoying.
Study Tour 2021
This year, was no different. Our candidate classes, grade 7 and Form 4, got a first-hand wildlife experience as they made a drive through the rainforest reserve of Mt Meru in Arusha National Park. Grade 7 and Form 4 will graduate on the 25th of September 2021, and we thought it best to send them home with a fresh memory of a picnic.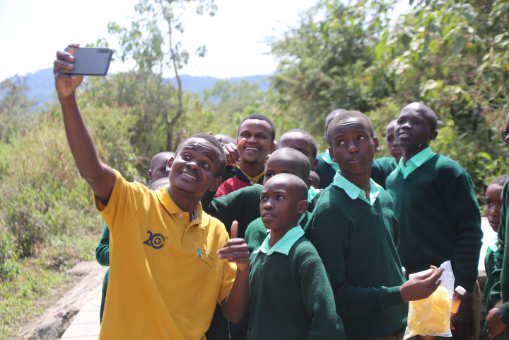 The day started at 7:00 am, everyone was dressed and ready to go. A short while after, the tour bus pulled up on the school's driveway. The children excitedly loaded their lunch and drinks to the bus. By 7:30 am, everything was set for Arusha National Park. After a prayer from one of the class teachers, we were on our way...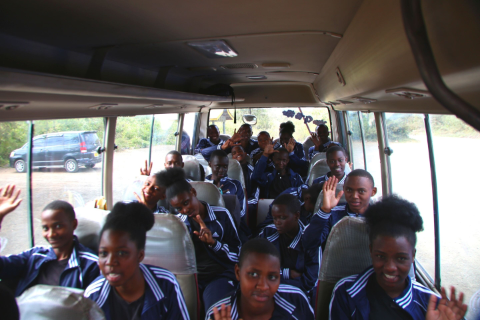 The two-and-a-half-hour drive to Arusha National Park didn't feel anything like 150 minutes at all – it was more like 10 minutes. The atmosphere inside the bus was that of praise, worship, and nothing but good vibes.
Yes! They even brought a guitar on a safari trip – because why not?
We were in good spirits as we pulled up at the entrance gate of the Arusha National Park. The National Park is popular with elephants, so it was only fitting for our tour guides to brief us in front of an exact replica of a mature male elephant at the park's entrance gate. Because, again, why not?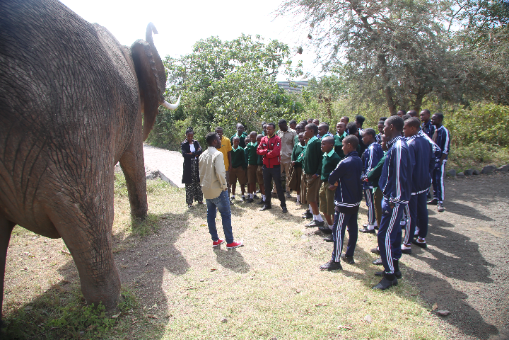 Courtesy of Season Master Adventures
Here is a fun-fact about elephants!
Elephants are almost always eating? They can eat well over 130 kg of food a day! Not only that but their poor digestion leaves most of the food they eat essentially unprocessed, so they help disperse seeds of various plants and vegetation by defecating everywhere. In simple terms, elephants plant trees – did you know that?
After a quick briefing and some photo-shoots at the park's entrace, we were underway on our game drive.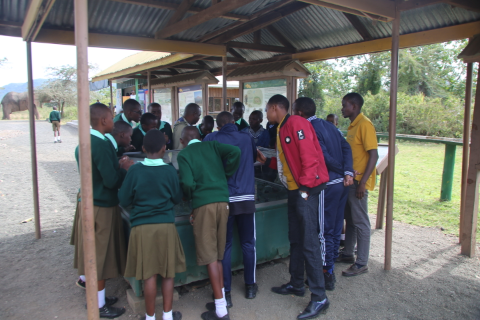 The Drive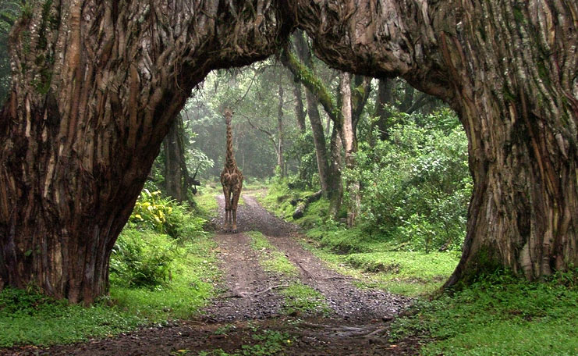 Arusha national park feels like a few national parks squeezed together to give a visitor the entire feel of the African safari trip across the 53 square-mile area. Although the climate is primarily that of a typical rain-forest, some regions consist of a mesh between grasslands and the highland forest.
Oh! Keep your eye out, lest you miss the giraffe amongst the bushes.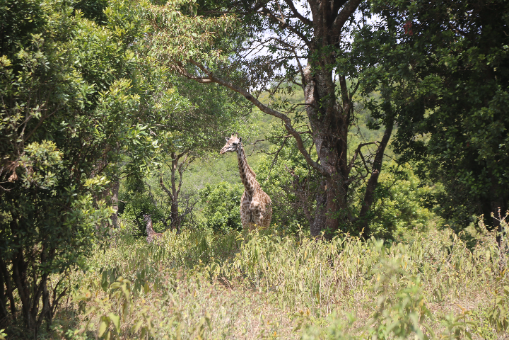 Or zebras scuttling across the dirt road.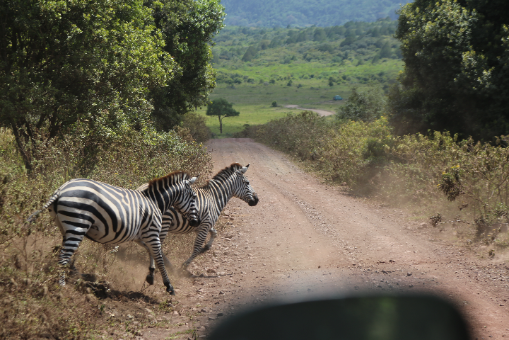 Or a herd of buffalos just chilling in the sun.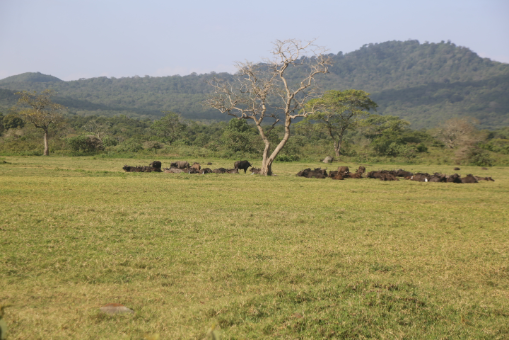 Or just the nice view of the Arusha National Park in its natural glory.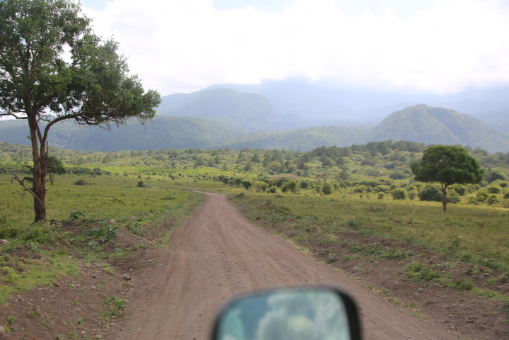 Or Baboons just grooming each other.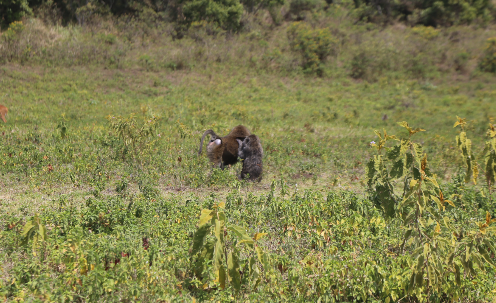 Fun Fact: Grooming has plenty of hygienic benefits for baboons. But there are other ulterior motives as well. According to one study, a baboon would offer to groom another in exchange for benefits or a favor later on.
About an hour later, we found ourselves at the beautiful Momella Lakes, a system of alkaline lakes thought to be formed from the volcanic debris created when Mount Meru blew up thousands of years ago.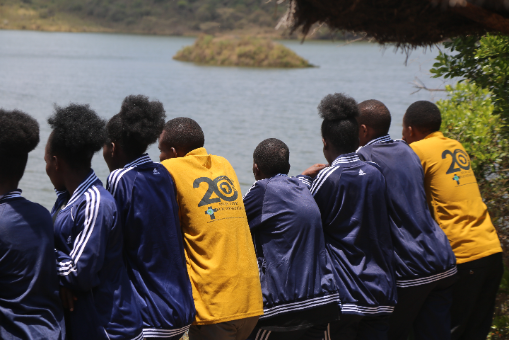 Makes for a good photo-shoot location!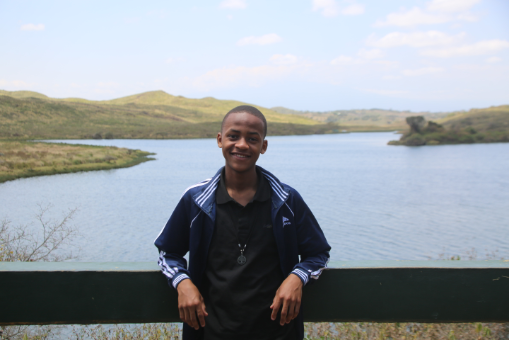 Animals don't drink from these lakes because the waters are too alkaline. But you can spot a few zebras or buffalos at the shore enjoying the breeze (and the view!).
One thing you are sure to see is plenty of Flamingos.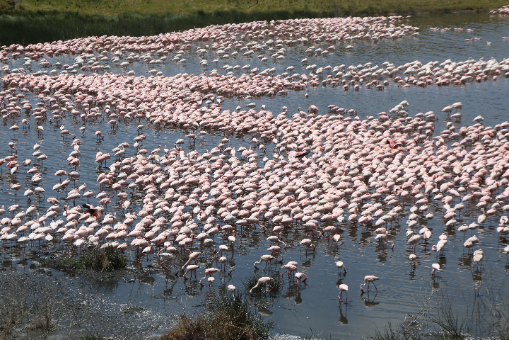 The lakes are a popular breeding site for pink Flamingos.
Did You Know? A large group of flamingos is called Flamboyance
Example: a (flamingo) flamboyance at Lake Momella.
We had lunch at one of the many campsites within the park.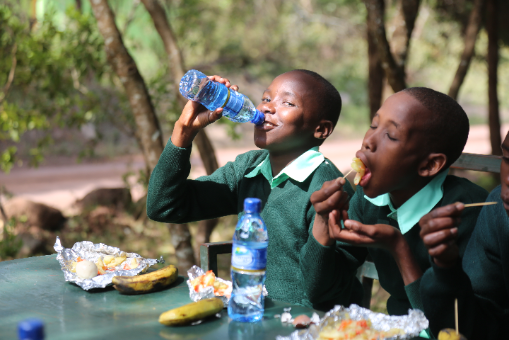 It had a mountain model in the shape of Mount Meru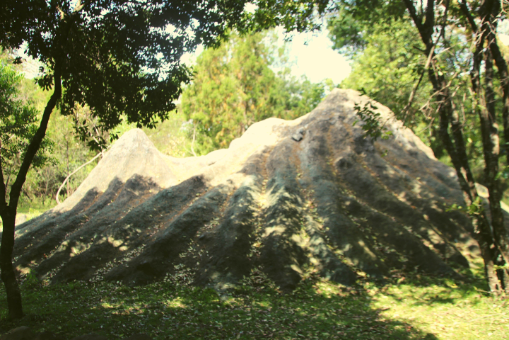 Excellent spot for taking pictures I tell you!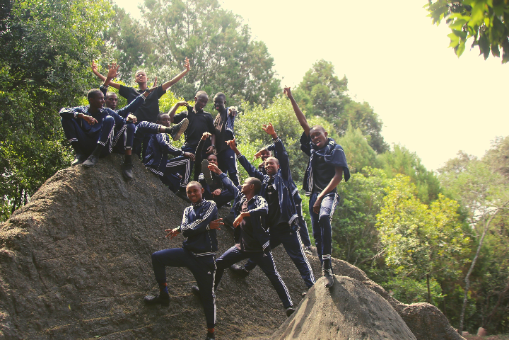 We concluded the day with the last game drive on our way out. Fulfilling day.